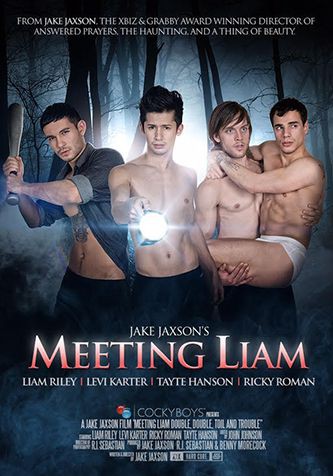 7 Episodes in this series
Meeting Liam
SCARY, SEXY, FUN & FULL OF CUM!
Episode Overviews
Buy DVD
Director: Jake Jaxson
Featuring: Ricky Roman, Levi Karter, Tayte Hanson, Liam Riley & Michael Milano
Description: Jake Jaxson's erotic found footage horror tale, Meeting Liam, delivers scares, chills, and intricate storylines twisted together with merciless, hardcore sex. Just when you think you've met Liam Riley, the once chipper little stud introduced to CockyBoys exactly one year ago, you've quite literally never seen him like this before. In their unexpected search for Bella, Levi and Liam encounter a barrage of a ghostly sounds and happenings, a party in the basement, a wormhole in the closet, and acorns pitted at them in every direction. Each episode loses no momentum, upping the drama with even more supernatural incidents, leading to outcomes both sexy, horrifying, and a ghostly three-ways. Full of sex, scares, fun & cum, this mini-series will leave you chilled and thrilled!
Critics' Reviews
From the gay porn stars and crew who worked on it to the fans who are watching it today, everyone is freaking out over the penultimate episode of CockyBoys' Meeting Liam. Partly because it features the hottness of a Tayte Hanson, Ricky Roman, and Liam Riley three-way, but also because it's genuinely scary as fuck. It also features Liam Riley's bubble butt on full display.

Meeting Liam has enough sex to make it a porn, but there's also enough story to make it a narrative horror feature, and it blends seamlessly. Although, a warning: If you're easily spooked, you might need to watch this with the lights on.
— Str8UpGayPorn.com
The phantasm four Liam, Levi, Tayte & Ricky evoke the lore & iconography of "Poltergeist" meets "The Amityville Horror" meets "The Blair Witch Project" by way of a cheeky nod to "Scooby-Doo" and the presence of the unknown brings them closer together as the guys take comfort in the carnal while their spirits and senses are on high alert as endorphins run wild at CockyBoys.
— ChroniclesofPornia.com
Some spooky thematic elements give this a proper Halloween feel as well but you might be asking what about the sex? No worries Jake Jaxon never forgets the raison d'etre for Cockyboys and the gorgeous videography of RJ Sebastian captures the beautiful Liam and Levi at their best.
— DeWayneInSD.com
Guillermo del Toro's got nothing on Jake Jaxon, who, unlike the Hollywood director of dark fantasy, has produced a genuinely eerie movie for this Halloween season.

If you are looking for an outright gay porn horror movie, Meeting Liam is damn near flawless.
— FriskyFans.org
To put it in simple terms, Cocky Boys' Meeting Liam part 3 is amazing. The newest annual Halloween offering from Jake Jaxson and Cocky Boys is an intricate erotic spookfest, a genuinely creepy ghost story with several twists and turns and shocks and surprises that are often outright frightening. It's all woven together with heart-pounding sex scenes, some of which also have surprises and twists. It's all beautifully shot and smartly edited and every single one of the performers put in their best efforts to make this a treat for all.
— JackManly.com