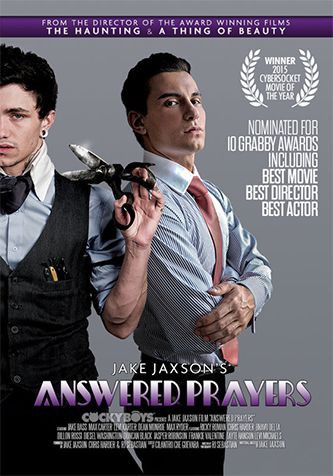 12 Episodes in this series
Answered Prayers
Weaving spiders, come not here
Episode Overviews
Buy DVD
Director: Jake Jaxson
Featuring: Jake Bass, Ricky Roman, Chris Harder, Diesel Washington, Bravo Delta, Dillon Rossi, Levi Karter, Max Ryder, Frankie Valentine, Max Carter, Duncan Black, Jasper Robinson, Dean Monroe, Levi Michaels, Tayte Hanson & Liam Riley
Description: From acclaimed director Jake Jaxson, Answered Prayers is a profoundly layered seven-part morality play that goes where no other film in the adult industry has gone before -- The Banker, The Healer, The Bully, The Ascension of the Lamb, The Assumption of the Lamb, The Redeemer, and The Actor.
Awards & Critics' Reviews
Best
Film
Cybersocket
2015
Best
Movie
Grabbys
2015
Best
Director
Grabbys
2015
Fan
Favorite
Grabbys
2015
Best
Videography
Grabbys
2015
CockyBoys writer/director/producer Jake Jaxson keeps raising the bar so high for himself, he'll need to learn how to pole vault before he releases his next feature. Answered Prayers, the top secret project that's been on everyone's lips (even though no one knew a thing about it), is finally out today, and the highly stylized production is as pristinely shot and edited as it is acted and directed. In short: It's been well worth the wait and well worth the hype.
— Zachary Sire [Str8UpGayPorn.com]
Cocky Boys' highly anticipated new series Answered Prayers has launched and it's clear with this first episode "The Banker" that auteur director Jake Jaxson has audaciously raised the bar once again in redefining gay porn. It's brazenly & beautifully obtuse, incredibly erotic, & instantly addictive.Described as an "allegory set against an ancient family feud and the follies of Man". You won't necessarily get that from the first episode or understand what's going on, but it's so riveting you'll surely want to see how it all unfolds...

As you might sense, the sex sequence isn't just tacked... it's integral to the plot. And it's amazingly hot. It's intensely powerful and grows more intense as the passion increases. And even though the Jinks character is on the bottom, he is still leading the banker by the hand. Amidst the incredibly hot sex and the various sexual positions there's interesting body language. Pay particular attention to Jake Bass' hands and how he uses them. Speaking of Jake you can tell he's having fun immersing himself in Jinks and the mythology that director Jake Jaxson has created.
— JackManly.com
Episode 4 of Answered Prayers, titled The Lamb, has been highly anticipated by Cockyboys fans for months, the tease and chatter about this project which brought legendary British pornstar Dean Monroe out of retirement will soon reach a fever pitch. Today's release of the movie trailer will have almost everyone eagerly awaiting the release of what is certain to be the best episode of this groundbreaking film!
— DeWayneInSD.com
As the preview for "ANSWERED PRAYERS: THE LAMB" played out right before my very eyes, the sordid sexual tale of transgressions told true to form immediately struck me as a Shakespearean mob tale by way of gay porn opera undertones. In what is likely a career-defining performance by CockyBoys exclusive Max Ryder, this miniseries has provided porn audiences with the ability to see gay sex performers as true purveyors of gay sex as art, so the cast of characters assembled herein, which includes CockyBoys Exclusives Jake Bass, Max Carter, Duncan Black, Frankie Valentine & Jasper Robinson, respectively, pushes us to push our own buttons.
— ChroniclesOfPornia.com