Description
Director's Note from Jake Jaxson:
Happy New Year!
From all of us at CockyBoys, THANK YOU for helping make this a fantastic year for our company and all of our performers. It seems like the year has just flown by for all of us. But it's a year we won't soon forget! It's been a real pleasure getting to meet, talk, tweet, communicate with so many of you this year. Like so many, we have had good days and bad, we have worked hard and played hard, and we end the year feeling better for having lived it. I hope the same is true for all of you. Let's keep working together, to celebrate GAY SEX in a way that is empowering to ALL! YES, I said "together," because we cannot produce what we do with out YOU, our loyal members, viewers and fans.
Love always & Be Nice!
Jake Jaxson
PS: Hope you enjoy this VERY hot deleted Answerd Prayers scene! It was very hard for me to cut it from the set of original films, but I'm very proud of the effort and great performances from Duncan Black & Saxon West. Enjoy!
Answered Prayers, the special collector's edition DVD set is now available for pre-order at our partner retailer, TLA!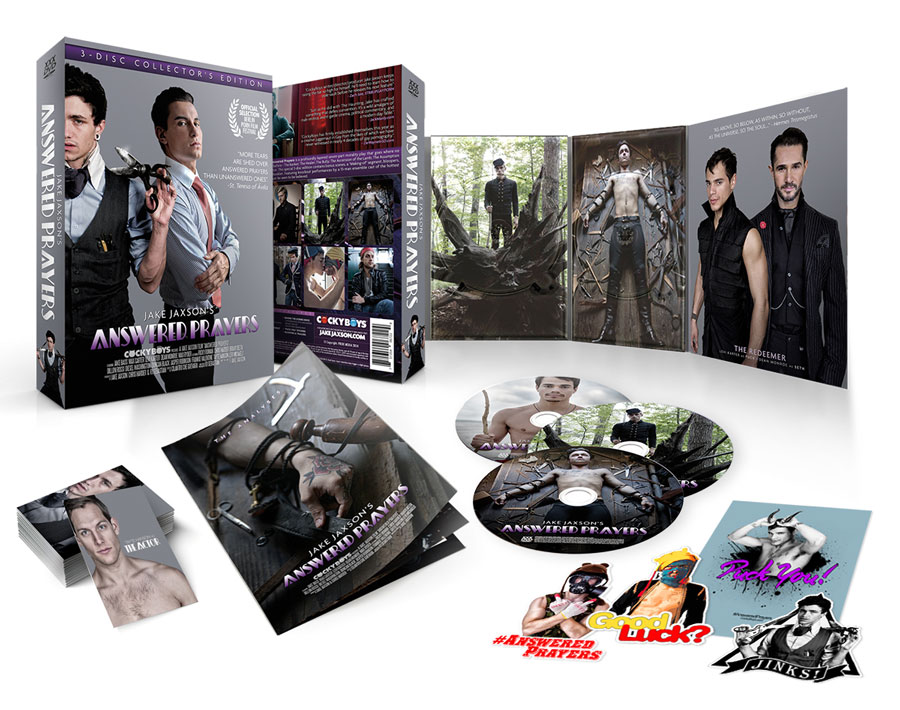 Scene Description:
In this exclusive Answered Prayers bonus scene, Duncan Black's character, Cain, is fleshed out with a tense and erotic back story involving a music teacher played by Saxon West. Haunted by jealousy, Cain uses his seductive powers to steal the musical talents of a stern yet vulnerable cello instructor. He studies his movements, his teaching methods, and ultimately his sexuality until he receives what he wants in the end. This featurette also includes behind the scenes interviews with Duncan Black and director Jake Jaxson.