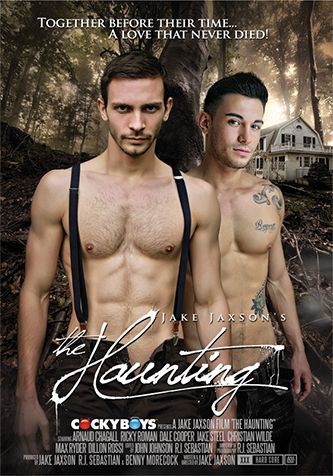 6 Episodes in this series
The Haunting
Together before their time.....
Episode Overviews
Buy DVD
Director: Jake Jaxson
Featuring: Arnaud Chagall, Dillon Rossi, Ricky Roman, Dale Cooper, Max Ryder & Christian Wilde
Description: Capturing the heart and soul of a forbidden love torn asunder, The Haunting weaves a tale in two timelines: a both pleasant and painful past coupled with a phantasmal present. Jake Jaxson's psychologically and erotically charged film begins with boyfriends Dillon Rossi and Jake Steel on a weekend getaway that leads to a mystically sexual encounter with an unknown presence. While sated, the couple is skeptical about the experience and cuts their trip short. However, when their friends and family don't hear from them, P.I. Dale Cooper is hired to investigate their disappearance.

Cooper finds more than he's bargained for as looking for the boys leads him to delve deeper into the intricate and somber past of the house's original owners. Described by gay adult industry insiders as "one of the best gay porn releases ever" and "a new genre of gay male erotica," The Haunting is an elaborate story that combines thrill, fear, suspense and erotic energy to portray an epic about how love and loss can traverse time and space.
Awards & Critics' Reviews
Best
Screenplay
Grabbys
2014
Best
Videography
Grabbys
2014
Film of
the Year
Hustlaball
2014
We're really digging the short films CockyBoys has been producing lately, and The Haunting is no exception. The beautiful camerawork and award-worthy editing style have pushed the studio even higher up the industry's ladder, and site owner Jake Jaxson (who directed the scene) is really proving himself as a porno top-dog with this one. We could write a 20 page essay about CockyBoys revolutionizing the way we watch porn (and maybe we will...), but until we do, The Haunting is just something you have to see to believe.
— Bradford Matthews [Fleshbot.com]
Cocky Boys has released the long-awaited epilogue to writer-director Jake Jaxson's amazing "The Haunting" and it's an absolutely perfect wrap-up to what has to be regarded as one of the best gay porn releases ever. In fact as we said before, "The Haunting" in total may represent a new genre of gay male erotica. It certainly can't really be regarded as mere gay porn.

Yes, there's sex in "The Haunting: An Epilogue" and it's riveting in its sensual power, its cinematography, and the chemistry between the two stars. It's a downright beautiful representation of gay sex. Jake Jaxson didn't just throw this scene into the epilogue to satiate the CockyBoys members.
— JackManly.com
Concerning Jake Jaxson's The Haunting, I can say I have a few words to share, and that makes me happy. I watch this mini-feature and I'm absolutely delighted. To a broader point, nearly all of the productions that Cockyboys have been handing out lately have left me delighted. I call The Haunting in particular a mini-feature and not a scene because we're not just watching a fluorescently-lighted and single location staged sex scene padded on the front and back ends by some cheesy b-roll. No, what we're seeing here is a well crafted piece of themed erotic filmmaking that ventures neither into pretentiousness or camp. In someone else's hands it could've easily slid into either, or both.

The quality that sets this production apart from its contemporaries is care. This mini-feature is obviously the product of people who care about the end result. Very often in pornography, you'll come across productions with a fair amount of style, but little substance to balance it out, and vice versa of course. But what we get here is something special: sexual storytelling.

Now, I know I'm a bonafide fanboy of Jaxson & Co., but don't let that fact dissuade you from my argument here. The Haunting is not the "I Want Your Love" of ghost stories, nor is it a flashy sex scene punched up with some snazzy editing. It falls somewhere in between. Pornography is a medium of fantasy after all. When you invite the quintessential fantasy element of ghost stories into the fray, you obviously can't go too serious or too imaginative for fear of pulling the viewer out of enjoying the scene entirely. The balance struck here is perfect.

Earlier I mentioned how sometimes I find myself at a loss for words when I try to describe something I like. This was almost one of those times, but as you can see I'm still going on about it. The reason I say almost, though, is because I'd like to think that if I were in Jaxson's shoes, I'd be making the same decisions he did. I'd know that the choices I'd made – setting up the conversational tone to convey backstory in the opening scene; choosing Moonlight Sonata's first movement in the midpoint of the film; opting for a hallucinatory premise versus reconciling a ghost in a conscious reality; choosing cinematic versus studio lighting – I'd know that these choices just felt right. The Haunting isn't out to win any Oscars here, but I do think it stands as an example of what's possible. You don't always have to sacrifice the story or the whimsy of your work to satisfy the climax.
— Harvey Walker [NerdJizz.com]