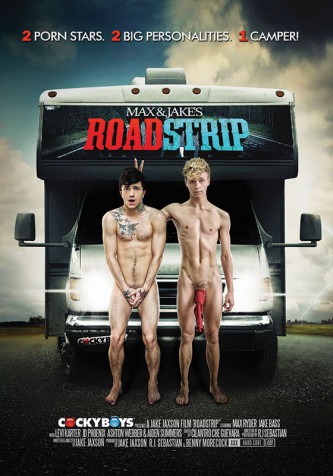 8 Episodes in this series
RoadStrip
This isn't your mother's roadtrip
Episode Overviews
Buy DVD
Director: Jake Jaxson
Featuring: Max Ryder, Jake Bass, Levi Karter, JD Phoenix & Kevin Warhol
Description: Coming off their stellar performances as bitter rivals in the award-winning & groundbreaking film 'Project Gogo Boy,' Max Ryder and Jake Bass set upon a journey of self-discovery that tests their friendship and their resolve. Heralded as the "(Fuck) Buddy Movie of the Year," Road Strip is an intense into the real lives of two of the most popular young performers in gay porn today!
Critics' Reviews
RoadStrip follows CockyBoys models Max Ryder and Jake Bass as they travel across this great land of ours from New York to Palm Springs in a rented RV. We soon see what happens when cameras are on them 24/7 and the line between reality and fantasy becomes increasingly blurred. It also heralds an entirely new genre in gay filmmaking, it even had a premiere at the 2013 Philadelphia International Gay & Lesbian Film Festival.

Having just launched their careers, the two adorable young 'uns had barely shaken the eggshells from their tender shoulders when their prior film Project Gogo Boy took the gay adult world by storm, racking up a mountain of awards and instantly catapulting both models and studio to the forefront of the industry. This time you'll see not only the two in so-hot-it-hurts sexcapades, you'll be witness to interpersonal relationships flowering and unraveling, highly personal interviews, and one of the most revealing - and sidesplitting - desert "trips" ever taken. And it's sexy as fuck. ...

In RoadStrip, CockyBoys writer/director Jake Jaxson, along with his partners-in-business-and-in-life Benny Morecock, and R.J. Sebastian (who also lensed), creatively fuses gay pornography along with experimental art, cinema verite and raunchy reality, and have fashioned one of the season's most visually arresting and exciting (s)experiences.
— Erik Schut [TLAGay.com]
In five short years, Jake Jaxson's particular brand of arthouse erotica has propelled CockyBoys to the top of its industry.
— VillageVoice.com
What's got psychedelic cacti, a choreographed dream sequence and an incredibly hot threesome with an escaped model from BelAmi? The final episode of Roadstrip, of course. Max Ryder and Jake Bass say their goodbyes to their magic bus, and summon the spirit of Bel Ami's Kevin Warhol.

I know I've said it's game changing, hilarious and weirdly compelling. But the most amazing thing about Roadstrip? I'm not even into Jake Bass or Max Ryder, and Roadstrip still manages to be the hottest thing on the internet.
— GayPornBlog.com
The (fuck) buddy movie of the year.
— Zachary Sire [TheSword.com]