Description

COCKYBOYS MAKES YOU FEEL GOOD!

JUST LOVE!
We present the next video in our Makes You Feel Good series. It is an erotic documentary series that's simply all about love --
JUST LOVE
-- specifically loving yourself. Shot entirely on a gorgeous private island off the coast of Puerto Rico, this new series showcases exclusive models Boomer Banks, Ricky Roman, Carter Dane, Jimmy Durano, and Levi Karter opening up and being truthful about learning to love and accept themselves for exactly who they are. Novel concept, right? Well... their answers may surprise you -- not because their journeys deviate from the norm per se, but because of how universally relateable they are at heart. Touching on topics such as self health, expectations and acceptance, coming out, and (don't worry!) even sex, this sensitive and insightful series aims to engage and inspire all viewers, serving up a spoonful of honest love before showing you some of the most passionate sex between men shot on film.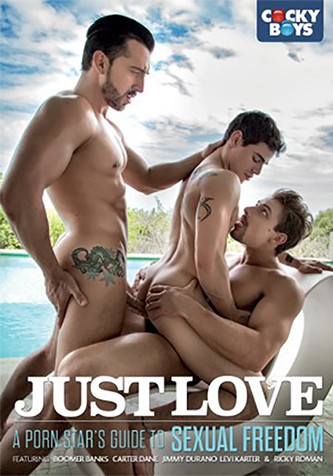 Scene Description Pairings
Boomer Banks & Ricky Roman
While Ricky has been a CockyBoy longer than Boomer, Boomer is a complete natural in terms of sex. Getting to know the guys on a more personal, vulnerable level certainly ramped up the chemistry between two men who were already smitten. You can see the connection between the guys as soon as they lock eyes at the pool. Ricky soon wades over to Boomer sitting on the ledge, gets a taste of his famously big cock for the first time, leading Boomer to return the favor as Ricky stands and Boomer grasps the bubble butt he'll soon be rimming and pounding.
Carter Dane & Jimmy Durano
Jimmy Durano and Carter Dane are back and this time they are ready to share with us a piece of themselves that no one has ever seen. They come from completely different backgrounds but they both had a similar goal in life - to learn how to love themselves. Jimmy grew up Catholic and he admits that he had a really hard time accepting the fact that he is gay but it was even harder for him to come out to his family. Fast forward to today, Jimmy has finally found the strength to tell everyone and to be the person he always knew he was meant to be. ''
Carter Dane & Boomer Banks
Boomer and Carter are the perfect match for each other. With his buff body, thick beard, and sleeves of tattoos, Boomer at first may not seem the most likely candidate to expose his most intimate thoughts on love. But after he discusses his feelings on where and how to find love, as well as the effects they impress upon him, he concludes that it's primarily love itself that "gives him a boner." Carter's take on sex is that it balances out his highly organized lifestyle, allowing him complete freedom and blissful complacence as his toes curl during rough, unpredictable fucking.
Carter Dane, Levi Karter & Jimmy Durano
Levi starts off the video talking about where he's come from and how it's formed his own identity as a gay man. He talks about learning to love himself and how not having too many expectations can lead to being a sexual free spirit. Levi is one of CockyBoys' most popular models and this candid and revealing discussion really brings you close to him as a person. It's almost like listening to an old friend talk about what really matters to them.
After a day of playing at the beach, Jimmy Durano and Carter Dane hit the showers and things heat up right away with Carter sucking Jimmy's beautiful cock as the water splashes off both of their perfect bodies. Levi comes into the bathroom and quietly watches these two studs go at it before Jimmy invites him to join them. Levi ditches his swim trunks and jumps right in. Sucking both of their cocks as they moan and make out with each other.
We hope you enjoy this look back at this special film that has a very warm, LOVING place in our hearts!
ENJOY!
Love Always,
Jake Jaxson, RJ Sebastian & The CockyBoys Team