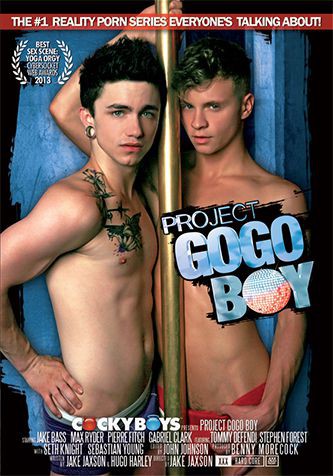 10 Episodes in this series
Project GogoBoy
The grounding-breaking erotic mocumentary
Episode Overviews
Buy DVD
Director: Jake Jaxson
Featuring: Pierre Fitch, Jake Bass, Max Ryder, Sebastian Young, Tommy Defendi, Ben Rose, Gabriel Clark & Justin LeBeau
Description: Project Gogo Boy defies convention by blurring the line between fantasy and reality. Directed by Jake Jaxson, this groundbreaking film is a tribute to the reality shows we love to hate by chronicling the lives of NYC nightclub performers: DJ's, hustlers, club owners, and go-go boys as they FUCK their way to the TOP BOX!
Awards & Critics' Reviews
Best Movie
Grabbys
2013
Fan
Favorite
Grabbys
2013
Must-Own
Movie of Year
TLA Awards
2013
Best
Sex Scene
Cybersocket
2013
Best
Director
Grabbys
2013
The most ambitious project Cocky Boys has tackled to date, Project Gogo Boy is gonna knock your socks off. Filmed entirely on location, Project Gogo Boy follows the travails of a superstar stripper and the up-n-cummer nipping at his heels to take his place. Think of it as All About Eve and Showgirls but with sexy (and shocking) gay porn reality-show twists.

With all the hallmarks of Real Housewives - in our estimation they're more like Mob Wives - including backstabbing, catfights, and shady remarks, along with some of the hottest sex you'll see this year from one of the hottest casts of the year (Jake Bass, Max Ryder, Gabriel Clark, Pierre Fitch, Sebastian Young, Seth Knight, Stephen Forest, and Tommy Defendi), we're pretty certain that Cocky Boys' Project Gogo Boy is gonna blow you the fuck away.

Since it plays out like an actual reality-series (the look of the film is fucking incredible, by the way) I don't want to ruin the surprises, so here's a summary of just the sex scenes. Max and Pierre turn it in freight elevator of a Montreal club. Pierre's major ink against Max's babyfaced ink-free body is lovely. Lots of major rimming here, culminating in an amazingly-shot fuck in the club's corrugated metal catacombs.
— TLAVideo.com
Is PGGB a documentary? Hardly, but it's the first time we can remember enjoying something other than sex in a porn series. (Not that the sex disappoints.)

Think of it as The Real Housewives of New Jersey meets Xtube.
— Queerty.com
CockyBoys' Project GogoBoy finale is not fucking around, so I won't waste your time with anything other than this: this is the best orgy of the year.
— Zachary Sire [TheSword.com]
Project Go-Go Boy is what you'd get if the stars of Magic Mike were less bland, fucking one another and acting like they're on an episode of The A-List: New York
— ManhuntDaily.com