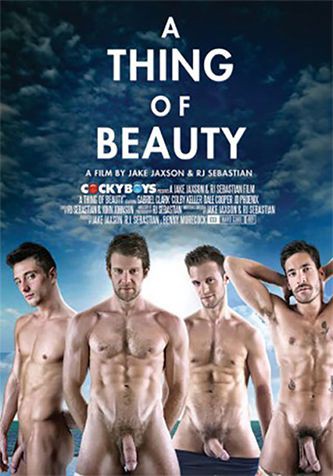 6 Episodes in this series
A Thing of Beauty
A thing of beauty is a joy forever
Episode Overviews
Buy DVD
Director: Jake Jaxson
Featuring: Gabriel Clark, Dale Cooper, Colby Keller & JD Phoenix
Description: Expounding upon the works of Whitman & Keats, A Thing of Beauty portrays the effortless chemistry and interaction between men. These short films by CockyBoys owners Jake Jaxson & RJ Sebastian illustrate the beauty of the unabashed shared love that men possess for each other. A Thing of Beauty shows it all.
Awards & Critics' Reviews
Movie
of the Year
XBIZ
2015
Director
of the Year
XBIZ
2015
CockyBoys' new project is a complete change of pace from their last (The Haunting), their current (RoadStrip), and undoubtedly their next.

Colby Keller, Dale Cooper, JD Phoenix, and Gabriel Clark star, while real life partners Jake Jaxson and RJ Sebastian co-directed/produced. It's one thing to drop a bunch of hot guys onto a beach and yell "action," but this, obviously, is something else entirely.
— Zachary Sire [TheSword.com]
This poetic masterpiece is undeniably different than anything you've seen at CockyBoys in the past. It's the first of many collaborations between director Jake Jaxson and R.J. Sebastian—his life partner of 15 years—and quite possibly the greatest, most inspired "love letter" ever written.
— Bradford Matthews [Fleshbot.com]
This is really beautiful stuff.... One of the BEST DIRECTORS WORKING right now and I can't get enough.
— GayDailyHot.com
Going by his past efforts and this... it seems certain that Jake Jaxson has another STUNNING ACHIEVEMENT on his hands.
— JackManly.com