Description
A Note From Jake Jaxson:
To a beautiful man:
Love Always!
That is my wish for Ricky.
Always evolving.
Always exploring. Always dreaming.
Always striving to be more than he was the day before.
Always the life of the party.
Always losing something.
Always finding something else. Forever a hopeless romantic.
Love always.

How grateful I am to both Ricky & Michael for allowing us to capture this very special moment-- when young love is at its most aroused. When love fuels the possible and blinds us to the impossible.

What touched and inspired me the most about this erotic doc is the authentic "being" from both these young men-- their willingness to be self-aware and see where each has helped the other. Both knowing and understating that love, while bright and blinding, needs reality and must also be honed, focused, practical and understood. Both see what many fail to grasp-- that relationships are built on communication, give & take, understanding, and at times pain and hurt-- for it is in the loneliness of the heart that a fire as fierce as a blacksmith's kiln can forge & hammer breakdowns into breakthroughs.

And so, it is with a happy heart that we present our next chapter of: Love Always!

Love always & be Nice,

Jake Jaxson

Scene Description: We haven't seen Ricky Roman in a while here at CockyBoys, but that's because he's found himself a boyfriend! His name is Michael, a dark and handsome stud with a gorgeous smile and impeccable body. He's the perfect guy for Ricky, and together they make each other want to be better people. As Ricky says himself, "He gives me fuckin' butterflies!"

They first met at a party and soon became inseparable... until Mikey (as Ricky calls him) announced he was moving to Los Angeles. After a string of unsuccessful long distance relationships, Ricky was wary of committing. But through Skype dates and multiple visits, they found a way to make it work and have been in love ever since.

Mikey was originally a webcam model to make some extra cash while working and studying full time, but he never considered adult film until he met Ricky. So as a way to express his love, Mikey decided to make his hardcore debut with Ricky. There's nothing amateur, however, about the way the guys interact -- the kissing, the blowjobs, the rimming, the fucking -- it's all real chemistry developed over the course of their relationship.

Ricky loves getting naked outdoors, so the guys started jerking each other off and exchanging blowjobs on the lake shore next to a very public highway overpass. But as things heated up, they decided to move to a more secluded space in the woods where Mikey pounded Ricky in several different positions while they sweet-talked the entire time. After Mikey climaxed on Ricky's lower back, he did Ricky the sweet favor of jerking off his cock for him until he came as well. Now that's an example of true love!


Models Featured in this Scene
Michael Milano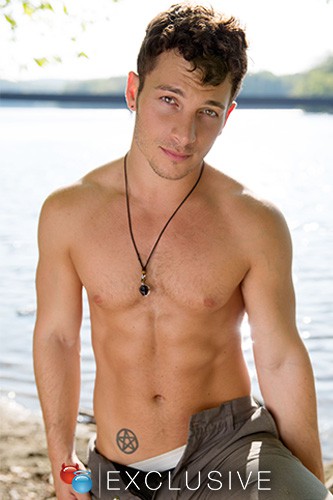 Ricky Roman