Description
A Note from Jake Jaxson:
Happy Holidays & Merry XXXmas! Today we wanted to share a little of holiday cheer with y'all. This summer we were asked by TLA to do an exclusive photo shoot for their holiday catalog with Jake Bass & Levi Karter.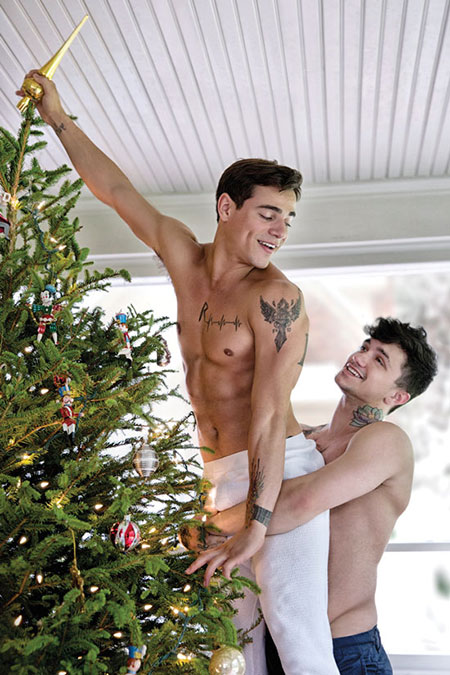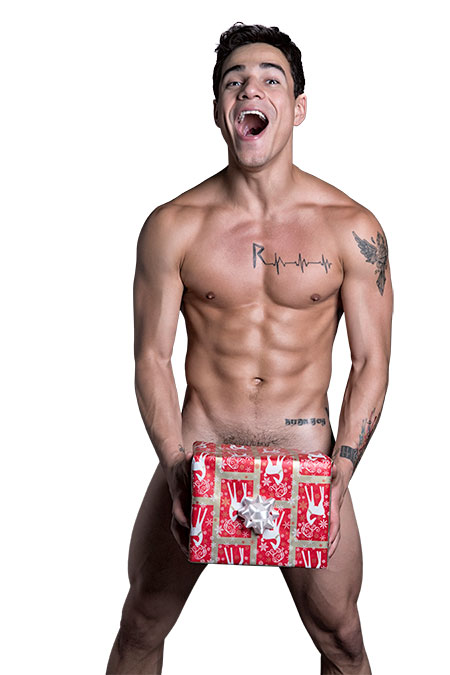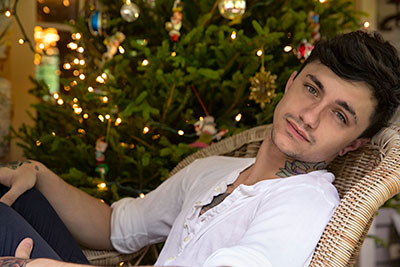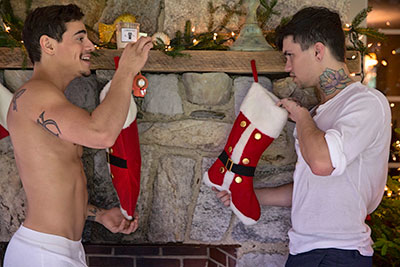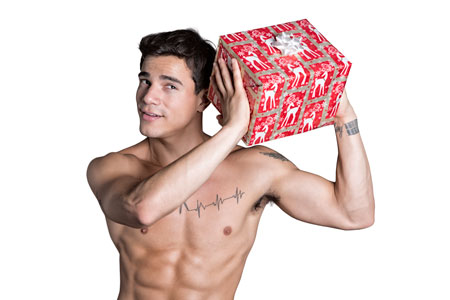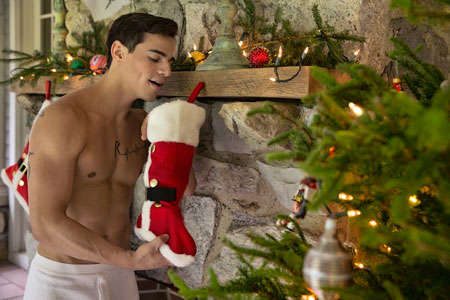 Trust me it's HARD to find a christmas tree in the middle of summer. But we did, and as we began to decorate the tree, I was excited to once again bring out a bunch of decorations that Benny, RJ and I had won at an auction that were once owned by Liberace, along with several Christmas photo albums owned by the iconic maestro. Many of you may know him, however most youngins don't. So on that hot summer day, as we decorated the tree, I found myself giving a pop cultural history lesson about a wonderfully flamboyant showman--a gay entertainer who during his lifetime, out of fear, was not allowed to be out and gay. To me, this is often an odd conversation to have with young men who, themselves, were out and dating in high school (I myself did not come out until college). And in that moment, it hit me how grateful I am that I, along with my family, performers, and staff, are able to live proudly in our work and in life, and that would not be possible without the loving, kind and energizing support of you, our members, friends and fans.
So, that conversation lead me to want to share these little treasures with you. In remembrance of a great entertainer who LOVED Christmas as much as he did MEN! And while we are having a little fun with Liberace's balls, here's hoping he's tickling the ivories for all of us from the great beyond. And here's to all of you: LIVE PROUD, LOUD & in LOVE.
Love always & Be Nice,
Jake Jaxson
,
RJ Sebastian
,
Benny Morecock
, and our pups: Raif, Sebastian, Jackson & Bailey.
Description:
After all those Christmas preparations and decorations, Colby and Tayte could not wait to get naked and on top of each other. First, Tayte sucks on Colby's giant dick while Colby aggressively fingers his hole to open it up and get it ready. Tayte knows what's about to happen and he can't wait any longer so he asks Colby to eat his ass before the grand fucking begins. And of course Colby doesn't wait for a second invitation. He bends Tayte over the chair and dives right into his hole as he spits on it to get it wet. By the moans coming out of Tayte you can tell Colby's tongue is going way deep in there!
Although Colby is doing an amazing job at rimming Tayte's hungry hole, the time has finally come for Tayte to take the plunge and experience the full Colby ride - all 9 inches right down to the base. While still bent over the chair, Tayte bites his finger as Colby slowly penetrates him until his eyes roll back and the pain turns into pure pleasure. From there on, Tayte gets hammered Colby-style until it's finally time for Colby to man up and ride Tayte's dick like the pro that he is. Fast forward a few positions later, Colby's massive dick is back inside Tayte's hole and is clearly hitting the right spot because Tayte can't help himself but to shoot a big load all over his chest. But that doesn't stop Colby from plowing him some more until he's ready to shoot. He pulls out and gets on top of Colby and literally showers him with cum. This is definitely one Christmas they're going to remember for the rest of their lives!